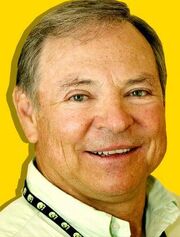 Franklin Wendell "Frank" Welker
is a veteran American actor, who specializes most of his career as a voice actor, where he has done almost over 800 different character voice roles in animated films, television shows, video games and commercials. He is responsible for a broad spectrum of character voices, and other vocal effects that have appeared over the last 40 years in American television and motion pictures. He is the voice of cartoon canine
Scooby-Doo
and his friend
Fred Jones|Fred Jones
and is most known to voice
Megatron
of the series, he is also best known for providing voices for different animals sounds, monsters and creature sounds as well.
Frank is listed as the number one "All Time Top 100 Stars at the Box Office," not as a box office draw, but in terms of the total revenue generated by the films he has participated in.
Voice acting career
Edit
Frank has been referred to as a "voice acting god" (by John DiMaggio and Billy West in the DVD commentary for Futurama) in Hollywood for the sheer number of voices he has done – over 1,200 – ranging from his work on Scooby-Doo to the present day. His voice-acting credits include television shows and films such as Curious George, Aladdin, Pocahontas, and computer and video games, such as the Baldur's Gate series, and Midway's first-person shooter CarnEvil. Frank's ability goes beyond creating human voices and is often cast as animals and used for animal vocals, for example, the animal spirit Totoro and Catbus in the Disney 2005 re-dub of My Neighbor Totoro.
Frank starred in more live-action movies during the 1990s. His work includes vocal effects for the character of Sil in Species, the goombas and Yoshi in Super Mario Bros. in 1993, Goro in 1995's Mortal Kombat, the Devil in 1986's The Golden Child, and Malebolgia in 1997's Spawn. Frank also provided the voice (both speaking and non-speaking) of Nibbler in the cartoon TV series Futurama.
As of 2002, Frank is the voice of both Fred Jones and Scooby-Doo. This includes the most recent iteration: Scooby-Doo: Mystery Incorporated. Also, Frank starred in most of the 2000s Scooby-Doo projects as Fred Jones and Scooby-Doo. He also was Sasquatch in The Legend of Sasquatch. Welker's talent was also recognized in the Lilo and Stitch television franchise (movie and animated series) and PSP game Kingdom Hearts: Birth By Sleep, voicing the electric-manipulating Experiment 221, as well as Disney's Stitch: Experiment 626 voicing the jealous and maniacal Experiment 621. He also provided the bear roars of Kenai in Brother Bear.
Live-action acting career
Edit
Frank has also done occasional live-action acting work throughout the beginning of his career in the 70s where he did work for Universal and Columbia Pictures films such as How to Frame a Figg and Dirty Little Bill. He also played the role of Henry in two live-action Disney films including The Computer Wore Tennis Shoes and Now You See Him, Now You Don't.