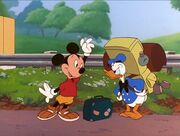 Mickey Mouse
is an animated anthropomorphic mouse created by Walt Disney and Ub Iwerks in the year 1928. Mickey is, by far,
The Walt Disney Company
's most famous character and serves as the company's mascot. Estimated as standing 2' 3" (69 centimeters) and weighing 23 pounds (10 kilograms), Mickey rapidly rose to the pinnacle of American culture, becoming the most popular cartoon character in the world and the prime influence of following cartoons.
For over 88 years, he has signified The Walt Disney Company, animation, goodwill, fun, laughter, and most of all Walt Disney himself. It was said by Lillian Disney, his wife, that over the years, Mickey and Walt grew together and were mirrors of each other's personality. They both started off mischievous and cheeky, but as they grew older preferred to step out of the spotlight and observe others work their magic. President Jimmy Carter once said: "Mickey Mouse is the symbol of goodwill, surpassing all languages and cultures. When one sees Mickey Mouse, they see happiness."
Mickey's 3-circle silhouette serves as the logo for most of Disney's subsidiaries, save for the ones that don't carry the 'Disney' or 'Walt Disney' label. Andy Warhol's portrait from The Art of Mickey Mouse used Warhol's famous pop art techniques on the classic mouse. Mickey is often cited as the world's most famous cartoon character of all time.
Mickey made a cameo appearance in A Goofy Movie, hitchhiking with Donald Duck during the song "On the Open Road". A Mickey Mouse phone was also seen in Max's room in the film's opening. At the end of the film, Mickey was seen in the crowd at the Power Line concert. Mickey is also mentioned during the climatic events of An Extremely Goofy Movie.