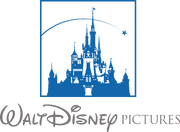 Walt Disney Pictures
is the American-based movie counterpart of
The Walt Disney Company
. It maintains Disney's family-friendly image and generally only releases
G and PG rated
films with only for exceptions: 2003's
Pirates of the Caribbean: The Curse of the Black Pearl
, 2006's
Pirates of the Caribbean: Dead Man's Chest
, 2007's
Pirates of the Caribbean: At World's End
, 2010's
Prince of Persia: The Sands of Time
, 2011's
Pirates of the Caribbean: On Stranger Tides
, 2012's
John Carter
, 2013's
The Lone Ranger
 & 
Saving Mr. Banks
, 2016's
The Finest Hours
and 2017's
Pirates of the Caribbean: Dead Men Tell No Tales
, all of which were handed a
PG-13
rating. Four of the five highest grossing movies from Disney have Johnny Depp in a major role.
Walt Disney Pictures was established as a Disney division in 1983; prior to that Disney films were released under the banner of the parent company, then named Walt Disney Productions because its together with Columbia Pictures.
Walt Disney Pictures includes Walt Disney Feature Animation (currently Walt Disney Animation Studios) and DisneyToon Studios, as well as the newly formed documentary group DisneyNature, and are all part of the Buena Vista Motion Pictures Group.
One of the most recognized designs featured a castle based on their famous theme park structures in Disneyland and Walt Disney World. With a blue background or a dark blue gradient background, a glowing arch flies over the white or blue castle with the titles on the bottom. It was also seen on many mid-to-late -1980s and 1990s prints of classic Disney movies before either the RKO logo or the Buena Vista logo. For 2001's The Princess Diaries, the jingle is orchestrated.